Contested Rate Increase Heads to Appeals
Oregon Insurance Division defends process past and present
March 31, 2011 -- The Oregon Court of Appeals will revisit today one of the largest health insurance rate increases to hit Oregon consumers, a 26 percent average hike on Regence individual plan holders nearly three years ago.
Attorney and former state senator Charlie Ringo, representing Regence plan holder Karen Kirsch in the case, said he will argue that regulators did not fully apply state law, which bars unreasonable rate increases.
Ringo will repeat arguments he laid out in an
administrative law hearing last year
, that actuaries in the Oregon Insurance Division were overruled by the director of the Department of Consumer and Business Services, at the time Cory Streisinger, which oversees the Division.
"The non-legal argument is the decision was made for political reasons," said Ringo, who plans to ask the court to set up some sort of "rate reserve fund" to benefit consumers. A decision is not expected for another nine months.
"It's important the Insurance Division applies the standards and the statutes that are in place," Ringo said. "The Division has been very remiss in the way it applies the statute. Like all organizations if they are not held accountable they tend to get sloppy. They need to be diligent."
Attorneys for the Oregon Department of Justice will argue that DCBS acted appropriately, there was no undue influence and the rate increase was justified, according to a
brief submitted in the case.
Ringo said today's rate review process is dysfunctional. "We don't have any meaningful rate review right now. I know that based on the documents I've seen and the testimony in our contested rate hearing."
Cheryl Martinis, Insurance Division spokeswoman, disagreed. Martinis and Division Administrator Teresa Miller have said Oregon's insurance rate review process is one of the strongest in the country.
"Our rate review process has changed pretty significantly since the Kirsch hearing," Martinis said. "We didn't have a 30-day comment period. It's far more open now, and we've hired a consumer group (for expert commentary). It's changed quite a bit since that time."
Recent rate requests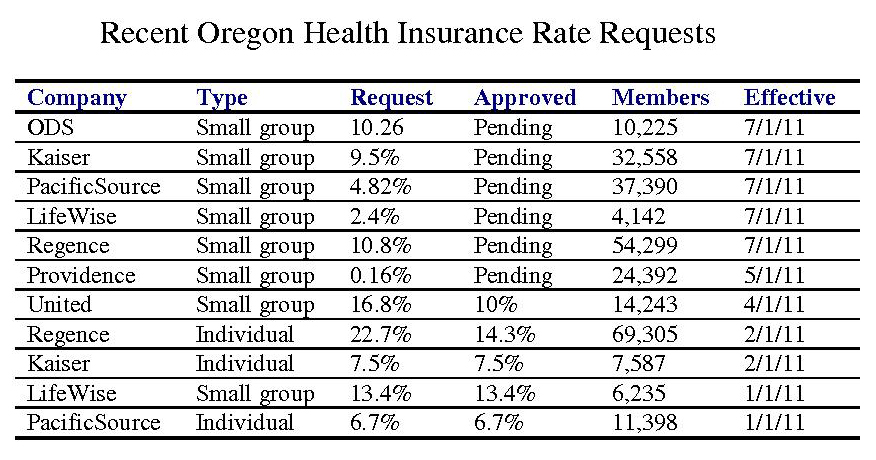 The Division has scaled back several recent rate requests from insurers including a 16.8 percent proposed increase on United HealthGroup small employer plans reduced to 10 percent and an 8.7 percent requested increase by HealthNet on small group plans lowered to 7.52 percent. The
Oregon State Public Interest Research Group
said those reductions saved consumers around $5.5 million.
In addition, Martinis said the Division has spent $150,000 from a federal grant to hire a consultant firm from Dallas, Texas – L&E Actuaries – for ideas on how to use the rate review process to lower medical costs. As it stands now, the Division has little control over what insurers spend on claims.
Questions for study include whether the Division should require insurers to spend more money on primary care, similar to a law in Rhode Island. "Many people think that helps provide better care at lower costs," Martinis said. "Should we reject rate increases if provider costs go up more than a certain percent each year? Should we reject rate requests if contracts with providers cover 'never events?'"
Recently submitted rate increase requests include a 10.8 percent average increase on Regence small group plans and a 10.26 percent increase on ODS small employer groups. The vast majority of those rate increases account for medical claims, Martinis said.
"We don't have any control of provider contracts," Martinis said. "We don't have the tools to affect that, but it doesn't mean there may not be way to influence those negotiations."
The results of the study will be too late to apply to a bill in this year's legislative session, however, concepts may come up for future consideration.
To Learn More
To review and comment on proposed rate increase requests
click here.