'Dogged' Health Care Advocate, Jane Netboy, Dies
The longtime health care advocate, Jane Netboy, who fought for better senior care but lived in poverty, has died at the age of 81.
She died of natural causes on Wednesday morning at the R & R Adult Care Home in Clackamas where she lived, a friend said.
Netboy was well-known among legislative lobbyists, advocates and state politicians from her decades of volunteer work at the state Capitol building in Salem.
As news of Netboy's death spread among legislators, Sen. Betsy Johnson, D-Scappoose, told The Lund Report, "the first reaction was shock and sadness — and that seniors lost a tremendously forceful advocate." 
Long before Netboy was a senior herself, she advocated for senior health care, as well as for affordable housing and issues impacting people with disabilities. 
Netboy lived for many years in a publicly-subsidized apartment near Providence Park in Southwest Portland. She was unable to hold a job due to having autism and Parkinson's disease but volunteered every weekday, friends said. She survived off disability benefits and lived most of her life in poverty.
Her younger sister, Nancy Seeger, would often travel from Chicago to help her sibling. "She was very generous, and anything I gave her, she gave to somebody else," Seeger said. "She wanted people to like her."
Those who knew Netboy were quick to mention she had a brilliant mind. Seeger remembered her scoring 155 on an I.Q. test, and others marvelled at her photographic memory.
"Jane had an uncanny mind for the legislative minutia that keeps the wheels on the bus of our democratic system," Johnson said. "For example, Jane could instantly recall the slightest of differences between three and four versions of bills and had the office skills of a modern-day Della Street. If any person wanted a paper copy of an engrossed bill, Jane was the person to get it done because she knew literally everyone in the building and knew which extension to call for the right person to get something she needed — today by 'close of business.'"
Even in the last months of her life, Netboy would call legislators' offices to talk about the issues, said John Helm, who knew Netboy from his work on a senior services committee and is married to Johnson. 
"She was well branded," Helm said. "I mean, she didn't have to advocate — you walk down the hall; you see Jane and you think: senior services."
"And to say that she was tenacious," Johnson added, "would be the understatement of the century. She was dogged."
In 2015, the Northwest Oregon Labor Council presented Netboy with the Heritage Award for her advocacy for seniors and people with disabilities, and in 2013 a surprise party that Johnson organized for Netboy was so well-attended it had to be moved outside the reception room where it was originally planned, according to a report from The Statesman Journal. At the party she was given the 2012 Governor's Volunteer Award.
Johnson said Netboy nearly fainted when then-Gov. John Kitzhaber knelt down in front of her at the surprise party to present her with a bouquet of pink roses.
"Jane was an amazing advocate with an enormous heart and gentle soul," Kitzhaber told The Lund Report in an email. "I have known and worked with her for many years and I will miss her very much. It is a loss to Oregon, but she left a beautiful legacy of compassion and a lasting mark of love and generosity on the lives of the many people she touched, including me. I am richer for having known her."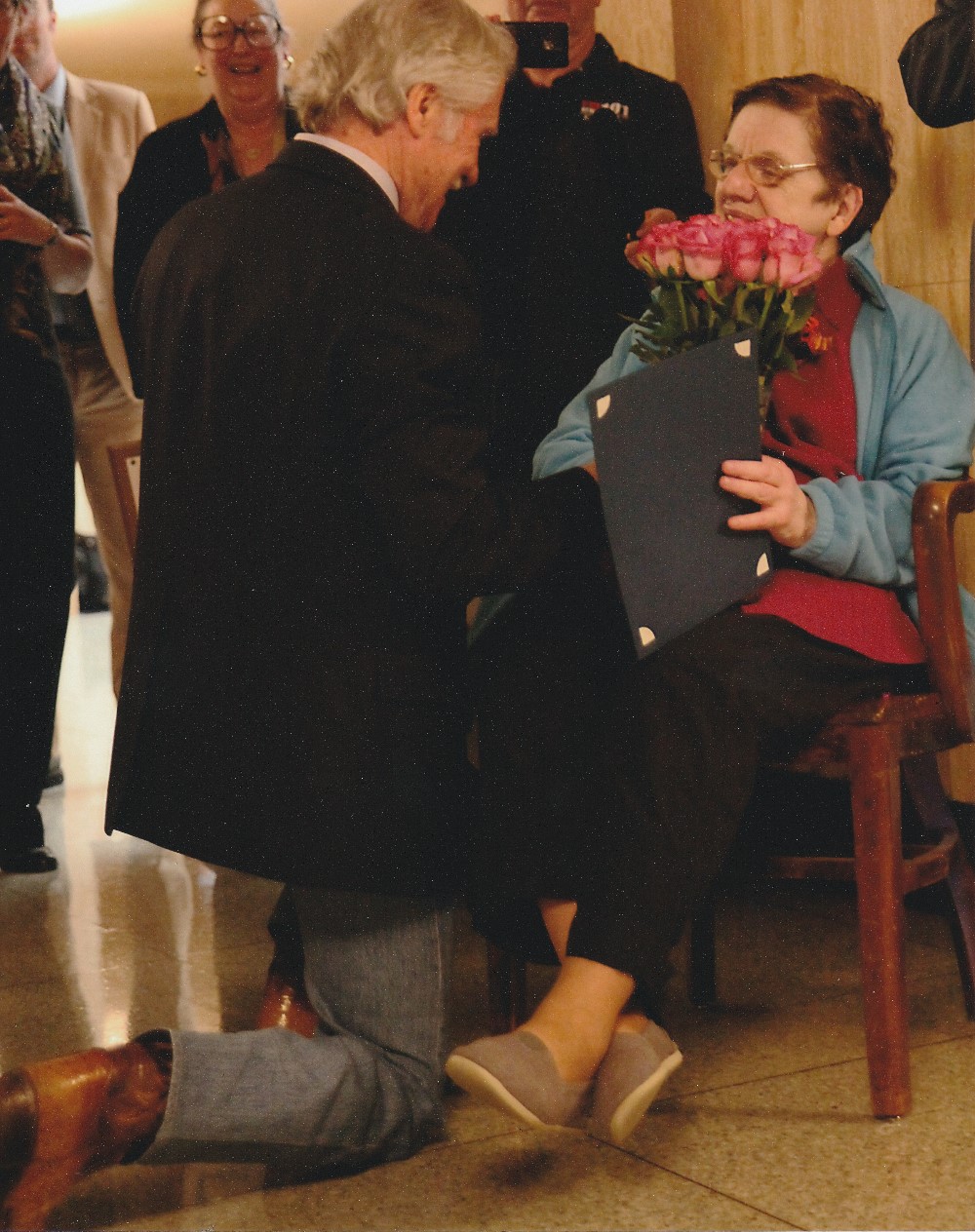 Daily Trips To Salem
As Netboy' Parkinson's advanced, she continued to make the trip from Portland to Salem to volunteer at the Capitol Building — first with a cane, then with a walker and finally, in a wheelchair, Dr. Samuel Metz, vice president of the Oregon chapter of Physicians for a National Health Program, recalled.
"I don't know if she had any official status at the Capitol, but she did manage to endear herself enough that she found places to work," he said.
Netboy left her apartment at 5 a.m. every weekday to take public transportation to Salem. It's unclear exactly when she began to make this daily trip. Metz estimated her work in the Legislature began in the early 1990s. But Les Ruark, who worked for the late Sen. Keith Burbidge in the 1970s, said Netboy was around back then, too. "I often enjoyed and certainly learned to appreciate the genuine frankness and remarkable recall she could and often did bring to a conversation or circumstance," Ruark told The Lund Report in an email. 
"I first got working in the Capitol as a legal aid lawyer in the 1991 session," John VanLandingham of Oregon Law Center said. "Jane had a very quiet presence. She just seemed to float around. And she would often be in the back of the room or just outside the group that was talking, and she would know stuff. And she would throw it out there. And there would be stuff that the more professional full-time hotshot lobbyists didn't know." 
At one point, former Rep. Sal Esquivel, R-Medford, encountered Netboy in the hallway in tears. She told him she had been booted out of the lobby, his wife, Jan Esquivel, said. "She had probably done something, she could be a stinker," she said. She found a desk outside her husband's office where she told Netboy she could work for a day or two. Five years later, she said, she was still there. "Once I realized that she was a savant, and could remember things, she really became an asset," she said. 
Netboy also worked with Sen. Michael Dembrow, D-Portland, on several occasions to secure the Capitol steps for single-payer rallies, Metz said.
Metz met Netboy on a planning committee that produced a single payer conference at the First Unitarian Church in Portland in 2011. It was the largest such conference at the time with more than 700 attendees from around the state, and he said Netboy was instrumental in making it happen. That planning committee became the Oregon Single Payer Coalition, which became Health Care for All Oregon.
Metz said Netboy's advocacy was often focused on health care, and it was through this work that she earned respect among Capitol volunteers and state legislators alike. Her autism was severe in some cases, he said, and she could come across as gruff, but she also had what he called a magnificent heart and dedication.
"Inside Jane's crabby exterior was a mind that remembered everything and a heart that included everyone," said Metz. "Once, after telling me what a terrible job I had done on a shared project, she concluded with, 'And Happy Birthday.' It was, indeed, my birthday and she remembered."
"She was there because she cared about the subjects," said VanLandingham. "And that's kind of a testament to the Oregon Legislature — that a normal citizen could show up in the Capitol, and by dint of hard work, and being present and paying attention, become an expert and be able to assist the professional lobbyists, the people who get paid to do that work and keeping up with what's going on. She just seemed to be everywhere. I always marveled at how she did it. I didn't quite understand, but it did seem like she was there from morning till night."
A Difficult Childhood
Netboy was born outside of Washington, D.C., in Bethesda, Maryland, in 1939. She moved to Oregon with her parents and younger sister in 1952. Her mother, Gladys Netboy, taught first grade at Sylvan elementary school in Southwest Portland for many years, and her father, Anthony Netboy, was an English literature professor at Portland State University. Seeger said Netboy's childhood was not easy.
"She had a hard time as a teenager, she should have been separated from the mainstream and what went on in her schools, but they didn't do that in those days," she said. "She suffered a lot of teasing and mean behavior from other teenagers, and it was really terrible."
Their mother died from breast cancer when the girls were teenagers, and Netboy's relationship with her father was complicated due to her mental health issues, which at the time, were largely unrecognized by society, said Seeger.
"It was the 1950s, and people weren't educated in the areas of health care and child psychology and things that now, schools and individuals and therapists would have stepped in. Nobody stepped in for her. It's very sad. Given all that, she was amazing," said Seeger. 
But, she said, "People stepped into later on in life."
Seeger credits Metz, Mary Lou Hennrich, formerly of Oregon Public Health Institute, and labor advocate Verna Porter as being "angels" who helped her sister along the way.
Despite Netboy's challenges, she made an indelible mark on Oregon politics, and especially on those involved in them.
"With friends spanning generations, occupations, political parties and faiths, Jane adopted, no, annexed, both causes and people with the verve and conviction of an entrepreneur — and a freight train," Johnson said.
Due to the pandemic, no memorial is planned at this time, however Seeger asks that donations be made in her sister's honor to organizations working to fight Parkinson's disease or to the Iglesia Ni Cristo, which is affiliated with the care home where Netboy was living. 
Donations can be sent by mail to:
Church of Christ/Iglesia Ni Cristo
Resident minister 
4803 SE 64th Ave. Portland, 97206
You can reach Emily Green at [email protected] or on Twitter @GreenWrites.
×
This article is for premium subscribers. If you are one, please sign in below.
You can see
two
more premium stories for free. To subscribe,
click here
. We depend on premium subscriptions to survive, and they are tax deductible.