Hospitals Transform Their Menus to Include Fresh, Organic and Local Produce
Distribution and leadership can be a barrier to serving healthier food to patients and staff – but advocates say larger buyers can help create a demand
August 3, 2012 -- When Nancy Gummer started working at Good Shepherd Medical Center – a 25-bed acute care facility in Eastern Oregon – in 1998, she came across a couple of ironies she couldn't ignore.
Gummer, a licensed dietitian, was hired to oversee the hospital's cafeteria, and also to teach diabetes education classes. At the time, the cafeteria was making a lot of food from cans and mixes and reheating frozen meals. The kitchen also stocked low-sodium counterparts to the same prepared foods for people whose diets required it – but "there wasn't really any cooking going on."
At the same time, Gummer was trying to teach patients to eat healthier, cut down on processed foods and cook from scratch.
"I just wanted the food [we were serving] to be what we were teaching people to eat," Gummer said. When she set out to serve healthier food – including more fresh, local and organic produce – she ran across a second irony: Hermiston is a farming community, and Gummer said there are several organic producers within a short drive of the hospital. Most sold their crops to distributors that bypassed Hermiston to sell crops in the western part of the state.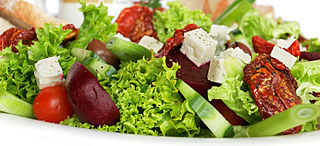 Gummer started approaching farmers and ranchers directly, and now the hospital's cafeteria serves food that gets high marks from patients and staff, but also from the surrounding community, who buy about 25 percent of the meals served there.
"It's one of the better places in town to eat," Gummer said.
Hospital food has long had a bad rap, along with food served in school cafeterias and other large institutions. In recent years, as school cafeterias and the food distribution system have undergone more scrutiny, more healthcare facilities are thinking about the food they serve, and overhauling their menus to bring them into line with what doctors, nurses and dietitians have been recommending for decades.
Making big changes to the way food is sourced and prepared, though, is challenging, especially on the scale at which most hospitals feed people. Gretchen Miller is the coordinator for Oregon Healthy Food in Hospitals, which works with hospitals to transition to healthier, more sustainable foods, and said she's never had a hospital slam a door in her face. In fact, many say they're hesitant to make major changes to the way they buy and serve food.
"They're always willing to hear what we have to say," Miller said. "That doesn't always translate to an ability to do it themselves."
Miller said in many cases hospitals fear switching to more sustainable foods will drive up costs, especially in the face of budget reductions during the last few years. Her group has responded by suggesting ways they can serve sustainable food while saving money – such as reducing the amount of meat they purchase, and reducing portions overall.
In some cases, chefs are resistant, or administrators fear making changes will drive up costs, Miller said – but also, major food distributors don't necessarily carry the foods that dietitians are asking for, and the language in catalogs can be misleading.
Gummer once purchased some salmon through a distributor that was wild caught in Alaska, according to the catalog, but it arrived in cases labeled "Product of China" because the fish had been shipped and processed overseas.
Eecole Copen, sustainable food programs coordinator at Oregon Health & Science University, said she asks the distributors she works with for a list of the organic and local products they offer every quarter. The list is short, and includes things like compostable napkins and flatware – not necessarily because distributors don't offer organic items, but because they don't label them.
Copen has also gone directly to ranchers to save money. Because of OHSU's size and purchasing power – the hospital has 550 beds and serves 8,500 cafeteria meals per day, including about 1,200 to patients – the institution has had a rippling effect on the rest of the food system.
Since 2011, OHSU has purchased about half of the beef it serves from the Carman Ranch in Wallowa, , increasing the ranch's business from $27,000 to $38,000 and allowing the ranch to expand. When OHSU approached the ranch, it didn't have a distribution deal – but the demand from the hospital alone was enough that the ranch was able to start selling through a food distributor, and now their product is served in some restaurants in the area, Copen said.
"The more hospitals and bigger institutions demand it, the easier it's going to be," she said, adding that there are ways to serve more sustainable food and make it budget-neutral.
Gummer said her costs actually didn't go up after she overhauled Good Shepherd's menu.
"It was a wash," she said. While many hospitals have added "sustainable choice" options on their menus while continuing to serve more traditional items, she started by throwing out everything that she didn't want, and overhauling the whole system, based on the premise that it's easier to make a big change than a small one. She also looked at ways to reduce costs in the cafeteria, like using fewer disposable products – and has just begun to track the amount of revenue Good Shepherd receives from community members stopping by for meals.
When she first started, Gummer said, it was relatively easy to figure out the difference between a "good" product and a "bad" one, but in the last 10 years the heavy marketing and "green washing" has made it tougher.
"You've got to do a lot of digging to find out what you're purchasing, and that eats up a lot of time," Gummer said. "Food's complicated. We try to keep muddling through."
Image for this story courtesy Fir0002/Flagstafffotos (CC-BY-NC) via Wikimedia Commons.
Bookmark/Search this post with
Keywords: