Governor's Office Waiting for Federal Report on Environmental Impact of Coal Trains
Health, environmental justice and neighborhood groups point to the hazards of coal dust and increased rail traffic
July 26, 2012 -- A group of doctors, environmental activists, neighborhood activists and Indian tribes has called on the governor's office and the Oregon Health Authority to perform a health impact
assessment before granting permits for coal exports by rail to the state's ports – which a spokesperson for the governor's office has called "premature."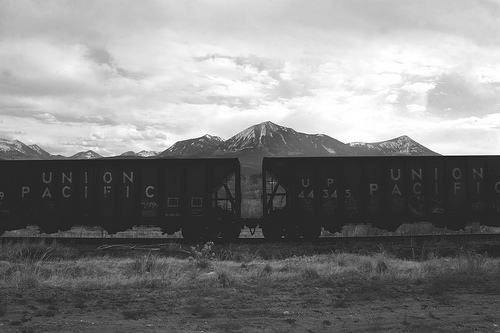 Citing a pending environmental impact assessment from the federal government, Tim Raphael, a spokesperson for Governor John Kitzhaber's office, said, "Until the federal work is done, we think it's premature to be considering state options."
Last week, speakers at a press conference hosted by Oregon Physicians for Social Responsibility talked about the effects of coal dust on air and water quality – as well as the additional public health
ramifications of an increase in rail traffic and diesel exhaust, since coal trains are heavier than other freight trains and need additional engines to be pulled. Coal trains may also be more likely to derail because coal dust is so fine it can cover the ball bearings and make it more difficult for trains to run, said Dr. Andy Harris, an ophthalmologist at Oregon Health & Science University who has served on the national board of director of Physicians for Social Responsibility for 13 years.
Increased derailments can in turn affect the soil and water quality of surrounding areas, including the tribal lands through which some of the proposed rail lines pass, said Kristina Proszek, an environmental
review coordinator for the Yakama Nation.
"Shipping coal to Asia does not end the health risks to our people and the general public," Proszek said, adding that the tribe may be in a position to litigate if the state doesn't perform the requested study.
Ben Duncan, chair of the governor's Environmental Justice Task Force, said he was concerned about the health impacts on Native American tribes in rural Oregon as well as poor and minority communities
who live near rail lines in Eugene and Portland.
Dr. Frank James, a clinical assistant professor at the University of Washington School of Public Health, was part of a coalition of physicians called Whatcom that preformed a health study to investigate the likely effects of proposed coal shipments through Washington state last year.
Most research on the health effects of coal dust has focused on its effects on the lungs of miners after years of intensive exposure, rather than on mining communities or communities through which coal is
shipped. A comprehensive health impact assessment can take what is known about coal dust, diesel and noise pollution and adjust the data it has to fit the proposed change. It would also take economic factors
such as job growth into effect, which can have a positive impact on health outcomes.
James said the Whatcom team ended up being more concerned about the amount of diesel exhaust the trains would put out, which would affect residents' cardiovascular health – but burning coal also has a
significant environmental impact that shouldn't be passed on to other communities.
"We've kind of become a natural resource colony for China," James said. "We stopped burning coal for a reason – because it kills people."
Image for this story courtesy of the National Institute for Occupational Safety and Health (CC BY 2.0).
Bookmark/Search this post with
Keywords: